After a busy week of networking at the I Love Claims Conference in Coventry earlier this month, Richfords Business Development Director, Michael Cooper reflected on the event and his views on upcoming industry trends that were discussed for 2018.
Why do Richfords attend I Love Claims?
The I Love Claims conference is a great opportunity for Richfords to meet with existing and potential clients in a relaxed setting and for us to discuss how the insurance claims arena is changing. This year's conference focused on attitudes towards water damage claims, customer journies and innovation and technology. Reflecting on these themes is a great opportunity to develop our understanding of the industry and our overall service offering.
Professionals gathered to listen to thought leaders from around the industry and to discuss how trends and changes will impact the claims industry. For Richfords, we then start to envisage how these changes and trends will impact on business and our customers. This is one of the most widely attended conferences of the year, so its also a great opportunity to let the wider insurance industry know of the great work Richfords does on a daily basis.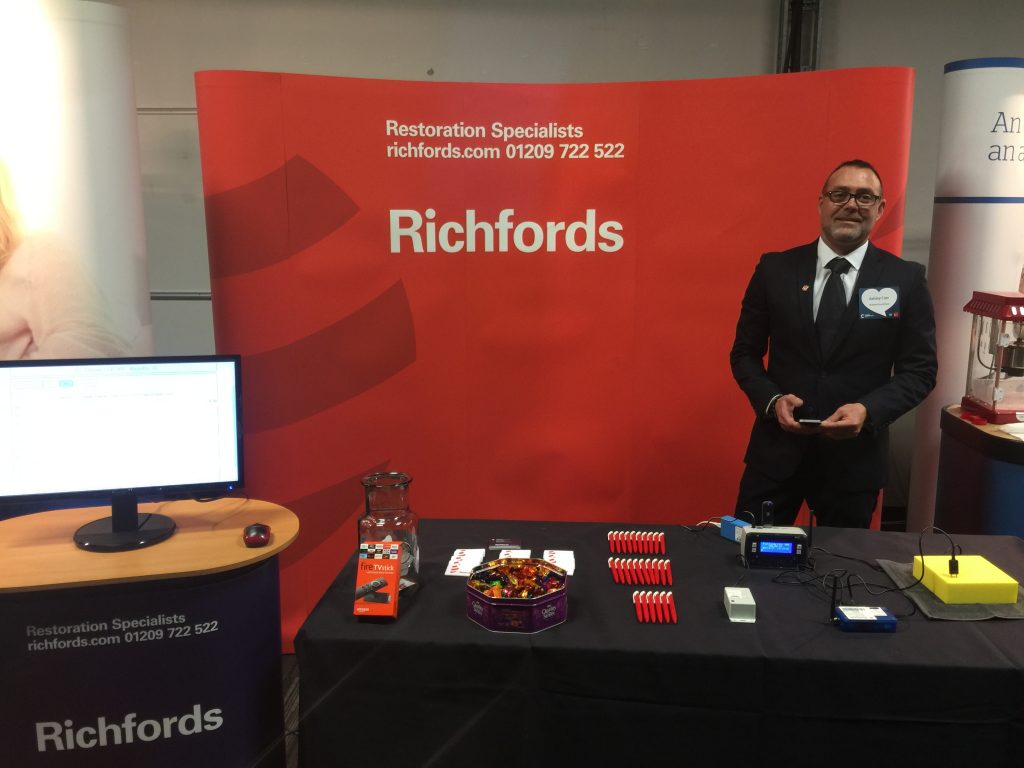 (Pictured: Ashley Carr, Richfords Relationship Executive at the I love Claims Conference 2017)
What was Richfords highlight of the 2017 conference?
The rapid advance in mobile internet technology means a growing range of possibilities for damage restoration. This year Richfords had the opportunity to formally launch our bespoke Remote Kontrol moisture monitoring system.

Many insurers and adjusters were very interested in the ability of this technology to reduce the impact of water damage claims on customer lives. Put simply, now customers will not have to wait in for a technician to visit to inspect the progress of the drying of their property as the technician can login using their smartphone to check moisture readings from anywhere in the world.
 
What were the key themes from the conference? 
There was a lot of discussion around the new competition in the industry. The conference was alive with rumors of Amazon recruiting insurance professionals with a view to entering the market as an insurer.

There was also a lot of interest in 'Lemonade'; an American insurance start-up, which is seeking to disrupt the market in the US.
As industry leaders, we always take a keen interest in how technology impacts our industry and this was also another hot topic discussed throughout the event. It is important to remember, whilst technology enables us to achieve faster and more effective results, customer care is paramount in the successful handling of claims.
However, it is clear to see how the customer experience can be simplified an improved with the advent of smart technology, such as online claim forms, instant mobile communication, remote monitoring of drying systems and even instant claims settlement.

What Richfords as a business took away from the event…
The conversations we have had with clients, both old and new, at the conference, clearly show that there is a growing appetite to work with forward-thinking restoration companies, such as Richfords. We pride ourselves on being a company that combines innovative technology with a restoration focused approach to damage management. We can't wait for next years event.